Impress your clients or delight your employees with custom treats from MECHA.
We can place your company's logo* on our chocolates and package them up as gifts for company retreats, new client gifts, conference hand-outs, or company holiday & new year's gifts. Follow the steps below to get started!
*One-time logo set-up fees start at $180.00 for one-color logos. See other pricing information here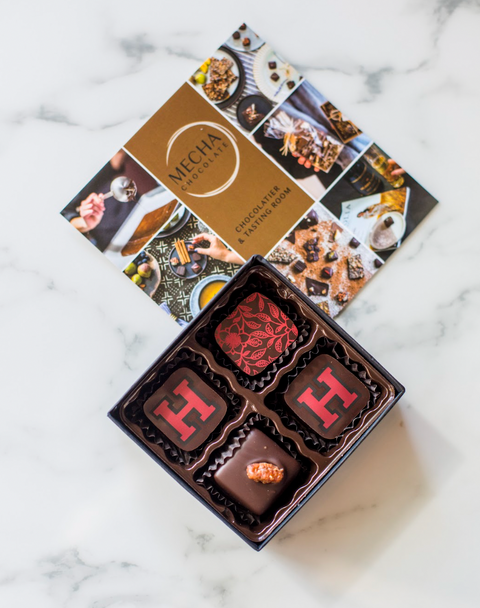 STEP ONE
GET INSPIRED
Need some inspiration for your custom chocolates? Check out our previous work to start the creative process.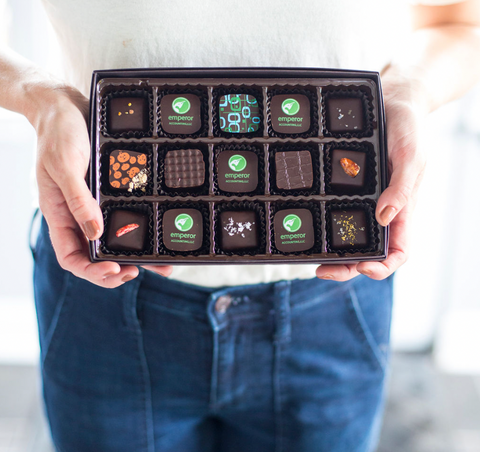 STEP TWO
BROWSE FLAVORS
We offer individual boxes in 2 & 4 piece sizes, and clear bags in 2-4 piece sizes. Browse our selection of flavors, favorite pairings, and edible designs.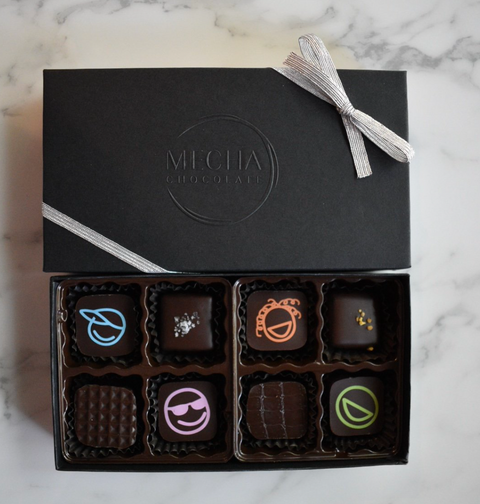 STEP THREE
SUBMIT INQUIRY
Feeling inspired and ready to submit an inquiry? We can't wait to work with you and will get back to you within 72 hours.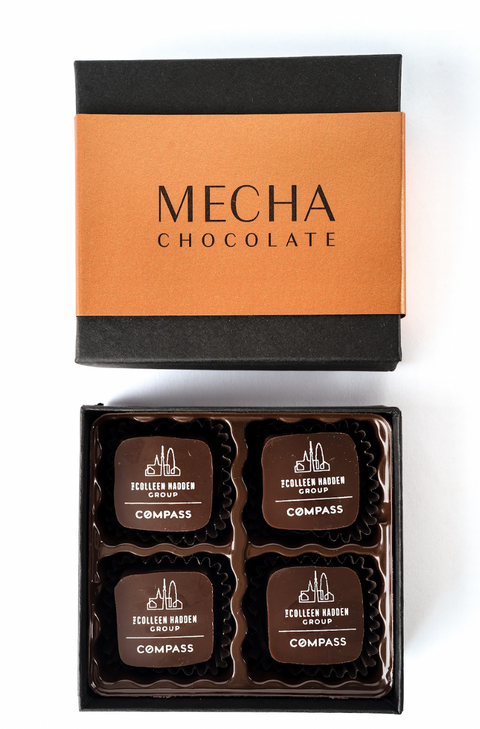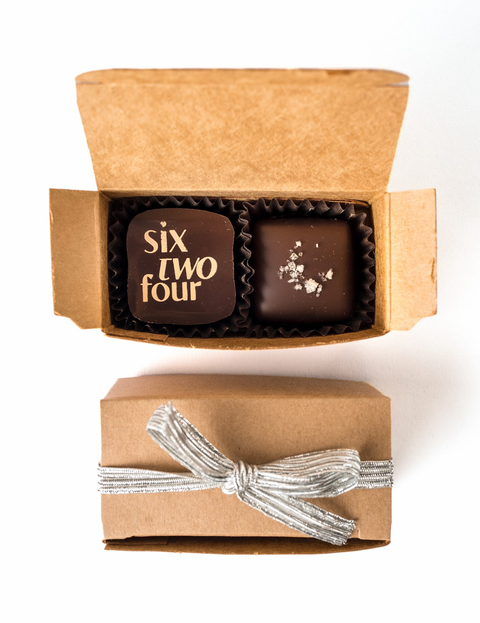 WHAT IS THE PROCESS TO SET UP A CUSTOM LOGO, TIMING, AND COST?
Usually about 10-14 days from the time of approval and payment for us to get the logo in hand from the printer.
Process:
1. The customer sends a high-resolution file of logo
2. MECHA provides a quote for the logo and proof for customer approval
3. The customer approves and pays for the up fee
4. The Logo goes into print production (10-14 days)
5. MECHA receives the logo in hand (10-14 days)
6. Customer pays 50% deposit of the order total, and then we begin to work on the order (usually about 2 weeks, longer for larger orders…remember we dip everything by hand)
7. MECHA ships/or the customer picks up the order and makes the final payment.
During Winter Holidays, November 1st is the last day for custom logo set up for Dec 1st pick up.
DO YOU SHIP TO INDIVIDUAL ADDRESSES?
Yes. Each address is charged our current FED Ex flat rate shipping fee. We do not ship USPS. An excel spreadsheet with accurate addresses must be provided by the customer 2 weeks prior to shipment. No PO Box numbers can be shipped.
Want to handle shipping on your own? No problem! You can always pick up your chocolates in-store and take care of shipment on your own.
*Please note that we only ship from Oct-April. Any requests outside of that range are subject to weather conditions. Unfortunately…melted chocolate just isn't the same!
While we only offer our MECHA embossed black box with a copper wrap or silver stretch loop, customers can provide stickers for two-piece boxes and clear bags and we will adhere them free of charge.
HOW CAN MY CLIENTS IDENTIFY THE CHOCOLATE FLAVORS?
We place a photo brochure in each box. Custom logos are always salted caramel, double dark, or a mix of both.
IF I AM NOT GIFTING THE CHOCOLATES RIGHT AWAY, HOW SHOULD I STORE THEM?
We recommend storing your chocolates in a cool, dark place out of sunlight. Do not refrigerate.
HOW ARE THE CHOCOLATES ARRANGED?
2 piece boxes: We recommend one logo, and one non-logo.
4 piece boxes: We recommend two logos, and two non-logos
8 piece boxes: We recommend four logos and four non-logos
15 piece boxes: We recommend 5 logos in a star pattern, and 10 non-logos
30 piece boxes: We recommend 10 logos and 20 non-logos
You can find pricing information here.
Go to top