Make MECHA a Part of Your Special Event
Wedding Favors & Bridal Party Gifts. Baby & Bridal Showers. Dinner Parties & Wine Tasting Events. Holiday Parties. Birthdays & Fundraisers. MECHA Chocolates are a perfect artisanal addition to any event you're planning. Follow the steps below to get started on placing a custom order for your event!
STEP ONE
GET INSPIRED
Need some inspiration for your custom chocolates? Check out our previous work to start the creative process.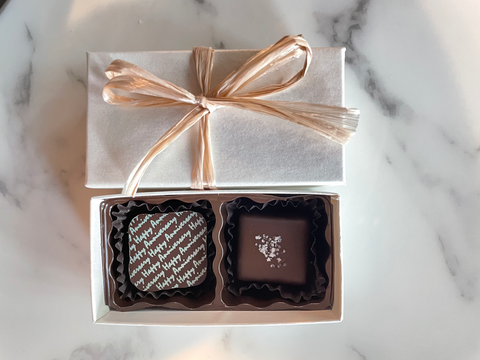 STEP TWO
BROWSE FLAVORS
We offer individual boxes in 2 & 4 piece sizes, and clear bags in 2-4 piece sizes. Browse our selection of flavors, favorite pairings, and edible designs.
STEP THREE
SUBMIT INQUIRY
Feeling inspired and ready to submit an inquiry? We can't wait to work with you and will get back to you within 72 hours.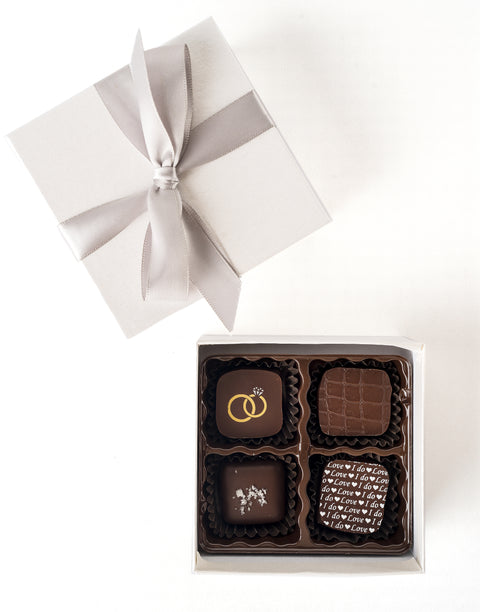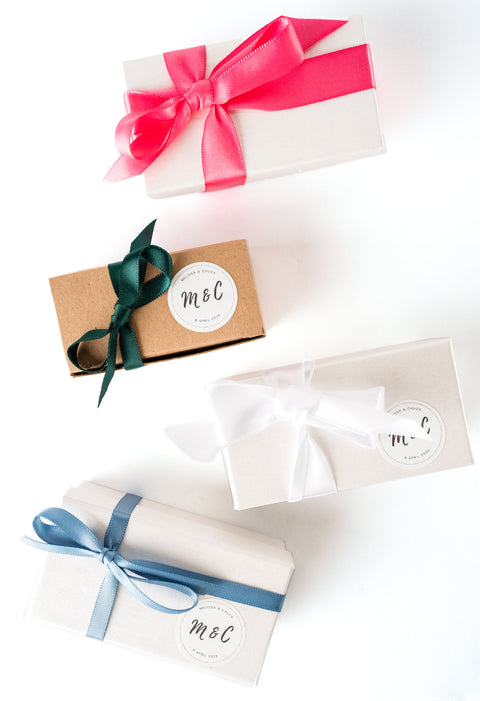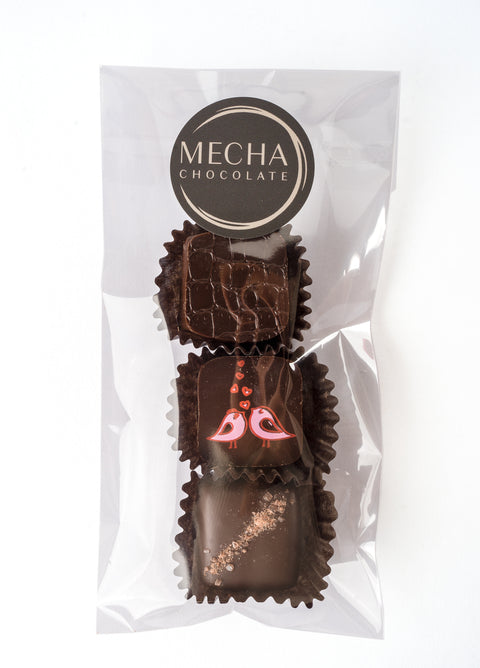 DO YOU SHIP TO INDIVIDUAL ADDRESSES?
Yes. Each address is charged our current FED Ex flat rate shipping fee. We do not ship USPS. An excel spreadsheet with accurate addresses must be provided by the customer 2 weeks prior to shipment. No PO Box numbers can be shipped.
Want to handle shipping on your own? No problem! You can always pick up your chocolates in-store and take care of shipment on your own.
*Please note that we only ship from Oct-April. Any requests outside of that range are subject to weather conditions. Unfortunately…melted chocolate just isn't the same!
CAN I CUSTOMIZE THE GIFT BOX?
While we only offer our MECHA embossed black box with a copper wrap or silver stretch loop, customers can provide stickers for two-piece boxes and clear bags and we will adhere them free of charge.
WHAT IS THE TURNAROUND TIME FOR MY ORDER?
Once flavors, box color, sizes, and customization are decided, the turnaround time is 2-4 weeks depending on the season. We do recommend starting the process at least 1 month out of the date of celebration.
WHAT IS THE SHELF LIFE OF THE CHOCOLATES?
Shelf life is about 4 weeks if stored properly. We recommend storing the chocolates in a cool, dark place out of sunlight.
IF I AM NOT GIFTING THE CHOCOLATES RIGHT AWAY, HOW SHOULD I STORE THEM?
We recommend storing your chocolates in a cool, dark place out of sunlight. Do not refrigerate.
Go to top